About us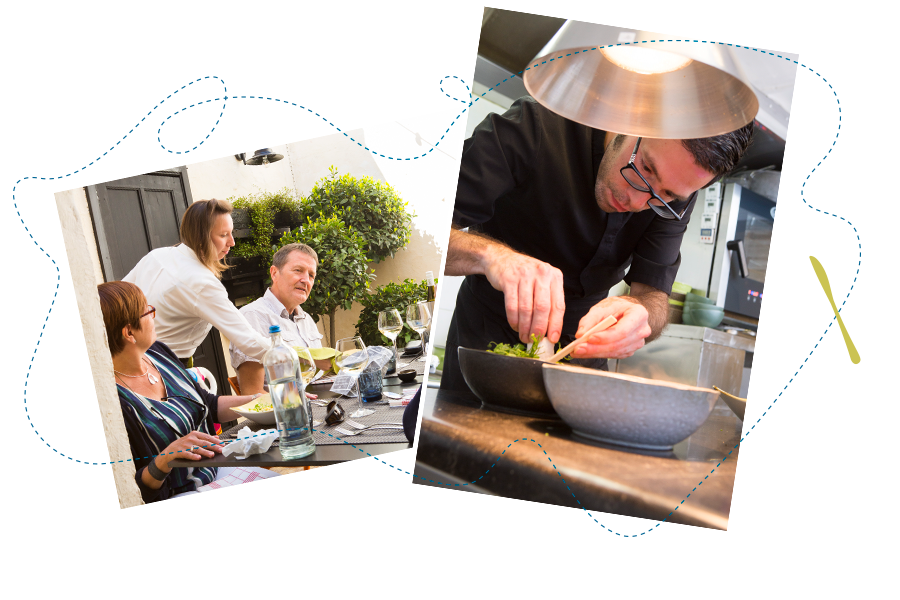 The team behind
de Twijfelaar
In 2014 Brecht Van Colen (chef) and Kimberly Van Gierdehom (hostess) realized their dream together: to start up their own restaurant business.

Kimberly and Brecht make up a fine, complementary and motivated duo that stands for quality. While Brecht disappears in the kitchen and connects with his creativity, Kimberly takes care of the overall mood of the bistro with her welcoming charm and relates with their customers. They are both quite aware of the fact that their customers are the building blocks of their successful bistro story.
Kimberly
Graduated with a bachelor in Psychology. Together with Brecht she quickly got the bistro vibe. She picked up quite a lot of experience in different restaurants: Ten Voute (Loppem), 'd Afspanning (Beernem).

As the hostess to their own bistro she can put her knowledge in psychology to good practice. Receiving and serving her customers is not a routine job for Kimberly, it is based on a sincere personal approach with respect for their wishes. Giving them a good and homely feeling, she, just for a while, submerges them in a carefree atmosphere.

Together with the delicious food, her hospitality, friendliness and amity provides every customer with a top notch experience in a busy life.
Brecht
Form an early age Brecht had a passion and a craving for tasty food. He studied at the renowned Spermalie hotelschool in Bruges. He successfully matured his career as a chef in restaurant Ten Voute (Loppem).

Brecht developed his love for tasty eastern cuisine through his many travels. With this background, he adds a surprising, modern and fun twist to our simple and classical cuisine.

Brecht uses seasonal products keeping local cultivators in mind combined with self-grown herbs. The result is a pure temperamental bistro cuisine distinguished by recognizable ingredients with thought for a beautiful composition.